My Parkour Story by Diana Popa
My name is Diana Popa. I'm 24 years old, I'm from Constanta, Romania and I have been practicing Parkour for 10 years.
How did I start training Parkour?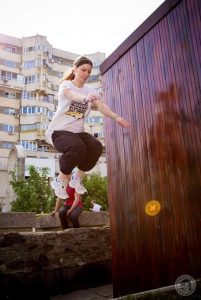 First of all, I have to say that I was into sports ever since I was little. Every single day I was outside jumping, climbing, running or playing soccer with the guys. One day one of the guys told me that he saw some scenes from District 13.Then he looked up it on the internet and found out that the main actor in that movie was David Belle and he was doing Parkour.
In a short time, we researched this new kind of movement and of course, started to imitate the basic vaults. I was only 14 when I discovered Parkour and it was captivating for me right from the beginning.
When I started to train I didn't know very much about the philosophy behind the movement. I just went out and jumped!
I remember how happy I was when I did my very first kong. I was the first to achieve this vault from my group of guys. I think they were jealous (kidding). Time passed and I learnt the basic vaults mostly by myself. I also found out that I needed to have a strong body because I wanted to remain as long as possible in this discipline. So, I started conditioning my body with exercises for different groups of muscles, stretching, precision jumps, balance. Everything went well and my progression was slow but safe. This is the path that I chose and it was perfect!
I was simply amazed about what my body can do, beyond any limits.
In my town I was kind of lucky, because we had a huge community and we went often to train and learn new things. Also, we communicate with communities from other towns through the amazing forum Traceurs.ro. That's how I shared my experiences in Parkour with people and it was great!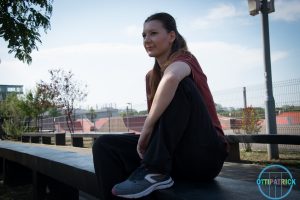 How to train in Parkour when 90% of the people who train are guys?
Haha, it was very tough in the beginning. I wasn't ever a self-confident person. I was kind of shy and introverted, I also preferred to train alone or with 1 or 2 people. It's hard when you are a girl, a woman to train in Parkour but it's not impossible. Nothing is impossible.
Why is it hard?
A lots of reasons.
First of all, I had to work hard to gain strength.Then I had to work to develop self-confidence and to learn to train with more people. I also had to face up to mean words said by random people when I was training on the streets. In Romania, unfortunately there aren't that many girls doing Parkour. I'm currently living in Bucharest and I'm training with my girls Alexandra Putineanu, Madalina Ene and Ozana Nițulescu. Together we try to overcome our fears, to motivate each other and to gain strength. Hopefully our female community will become bigger soon.
Disappointment and fear?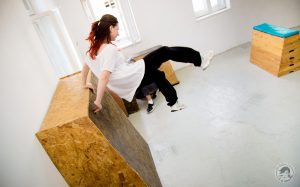 I've experienced a lot of these.You know when you try to make a jump and you don't succeed from the first attempt? It's kind of disappointing. Also, if I fall down from one jump, then it is kind of hard for me to get up again. But slowly I'm learning to become more stronger.
10 years of training?Injuries but also progress.
It sounds kind of crazy, but I've been training parkour for 10 years. There was a period when I had some injuries. I had tendinitis on my left knee because of a bad landing. I had some treatment and it went well. After 6 months I began training again. I'm not talking about bruises or easy hits.Those happen so frequently, they feel like they are a part of me now, haha.
Everybody asks me: what is it like to train for so many years in parkour and even if you are a girl?
The answer is that I am passionate about what I'm doing and I will continue to practice for as long as my body allows me.
Another part of my evolution: overcoming fear – trying new things.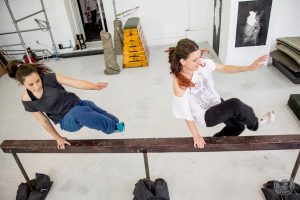 I remember how much I admire people who trained in parkour but also those who were doing flips. I must recognise I always asked myself how they can do it? I watched them with pride, but never ever thought of trying. After years and a lot of training I finally decided to try flips.This occasion came with the grand opening of a Parkour&Freerunning gym(Reborn Education – which also gave Parkour and Freerun lessons for those who wanted to learn in a safe environment) in Bucharest. Also,Reborn Education is the first school in Romania that teaches people.The gym was opened by two amazing traceurs with a lot of experience: Glovaschi Cristian and Justin Musina. Here, in this gym I overcome my fear besides flips. With the help of a lot of people, I managed to do frontflip, webster, sideflip and wallflip but only with support and it felt so amazing! I felt like I was flying. Maybe I will try to do flips outside soon, after I've gained a lot of trust and courage.
What is my routine in my trainings?
Well,I go outside alone or with my traceurs friends. First of all, I do a very rigorous warm-up, maybe play some games and then I let my imagination fly away by doing a lot of runs, also working on my efficiency, equilibrium, strength and flow.
What does parkour means for me?
I know it sounds like a cliché, but Parkour is the discipline which helped me to develop my mind and my body. It helped me a lot to overcome mental and physical obstacles. I grew up with parkour and I hope to age with parkour! 🙂
I want to thank a lot to all the people who supported me through all these years: my parents, my boyfriend, my traceurs friends (guys and girls).Thanks a lot!
Photos by Madalina Ene Alternatives and OttiPatrickPhotography