Interview with Julie Angel for womensfitness.net
The original interview can be found on womensfitness.net
HERE
.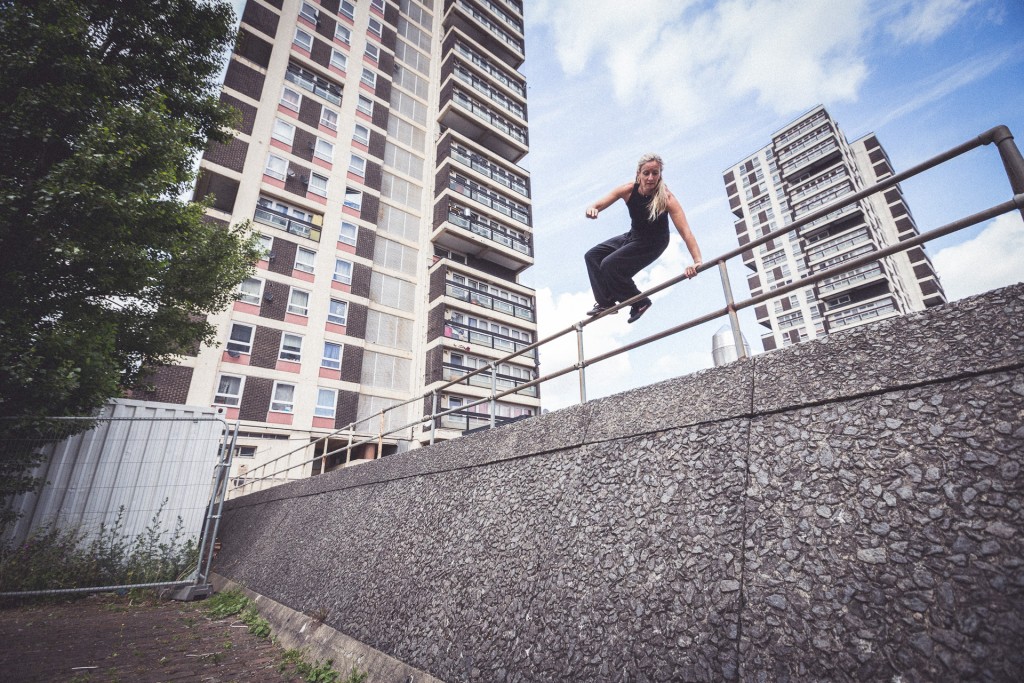 photo credit Andy Day
Julie Angel is a British filmmaker, artist, academic and writer. After finding Parkour, Julie became interested in the idea of movement and free-running, making it the focus of her PhD and setting up the movement group See&Do.
Lets know her story more closely as she catches up with Namita Nayyar, President Women Fitness.
Ms. Namita Nayyar:
You are an independent filmmaker who likes documenting the current 'age of athleticism ' – Parkour, MovNat, buildering and much more. Share with us your spectacular journey in the world of film-making and how it all began.
Ms. Julie Angel:
Ever since I can remember I've always felt drawn towards images and sounds in some shape or form, whether it was watching films, listening to music or looking at the work of different artists and photographers. In parallel to this I loved learning about other people's stories. There was never a clear plan, just a series of decisions of moving towards something that combined these passions. In hindsight it looks obvious that it's possible to merge this into a career but at the time it just felt like following my heart. I went to art college in Plymouth in the South West of England and then carried on making films when I left, working on self-initiated projects as well as commercial ones.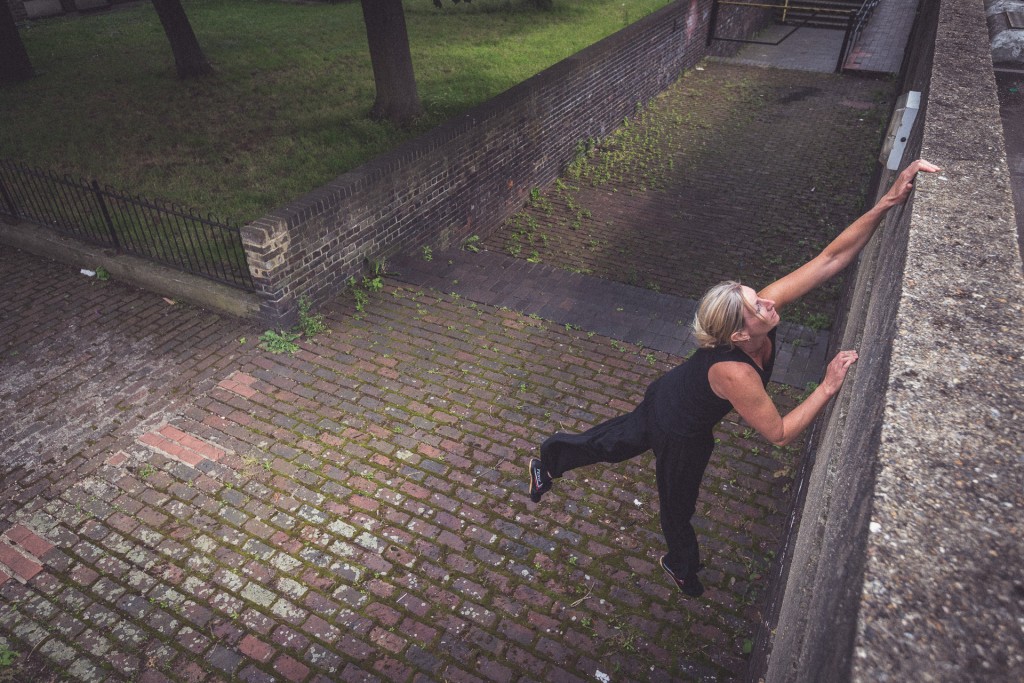 photo credit Andy Day
Ms. Namita Nayyar:
You are an author, writer, filmmaker, photographer, academic, artist and parkour coach. How do you manage such a remarkable, multi-dimensional lifestyle?
Ms. Julie Angel:
What links all of the above is a growth mindset, love of learning, an interest in people and self-improvement, and loving what I do. Sometimes my projects are more of a creative exploration into shapes and colors through my more artistic endeavors, and others are about ways to communicate meaning using either images or text. Meaning is always more important than the aesthetic in anything I do. The academic work is the same, exploring ideas and finding ways to understand and apply them. Movement, self-reflection and improvement is a common theme in all of the above – strong body, strong mind.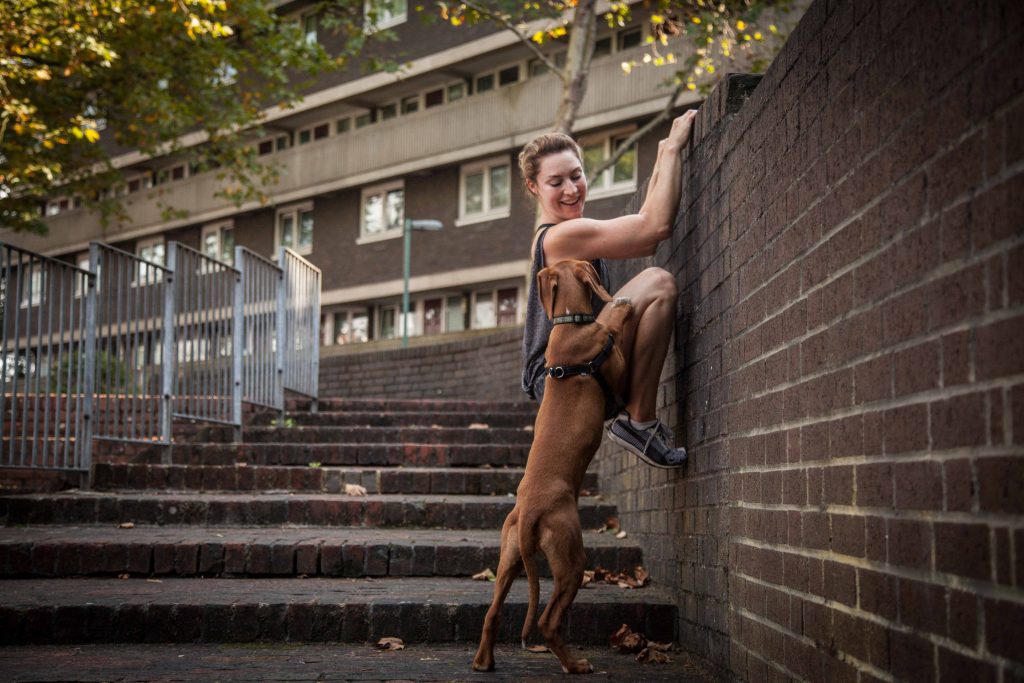 photo credit Julie Angel
Ms. Namita Nayyar:
Introduce us to "Breaking the Jump: The Secret Story of Parkour's High-Flying Rebellion".
Ms. Julie Angel:
The book Breaking the Jump is the product of the past 12 years' worth of research into Parkour. It tells the story of the group of friends who created Parkour, and how it then spread from some unknown areas on the outskirts of Paris and became a global phenomenon. It also documents my own journey of rediscovering movement and how a single jump can change your life. Effort, challenges and facing our fears are all relative, and they are things that everyone can relate to. You don't need to be an elite level athlete to start doing Parkour, you just need to be willing to turn up and take your first step.
Ms. Namita Nayyar:
Who or what has been the inspiration and motivation that led you to find out more about Parkour and made you become a practitioner yourself?
Ms. Julie Angel:
I was inspired by the athleticism of the athletes I was working with but ultimately what fascinated me was the creative way that they saw opportunities to move and explore their own potential in their everyday surroundings. There was no special equipment so it was accessible and available if I was willing to try. Movement begets more movement and because Parkour taps into an emotional side of how you look at your surroundings – how they are not fixed but, instead, they are open to change. The same is true of how you perceive yourself and what you are capable of. The physical obstacles you train to move on, over or around in Parkour are a metaphor for the obstacles we face in life. Both involve a process of being attentive to our abilities and progressively working towards a goal. Once you start moving again after being somewhat sedentary for many years it's something that you don't want to stop doing.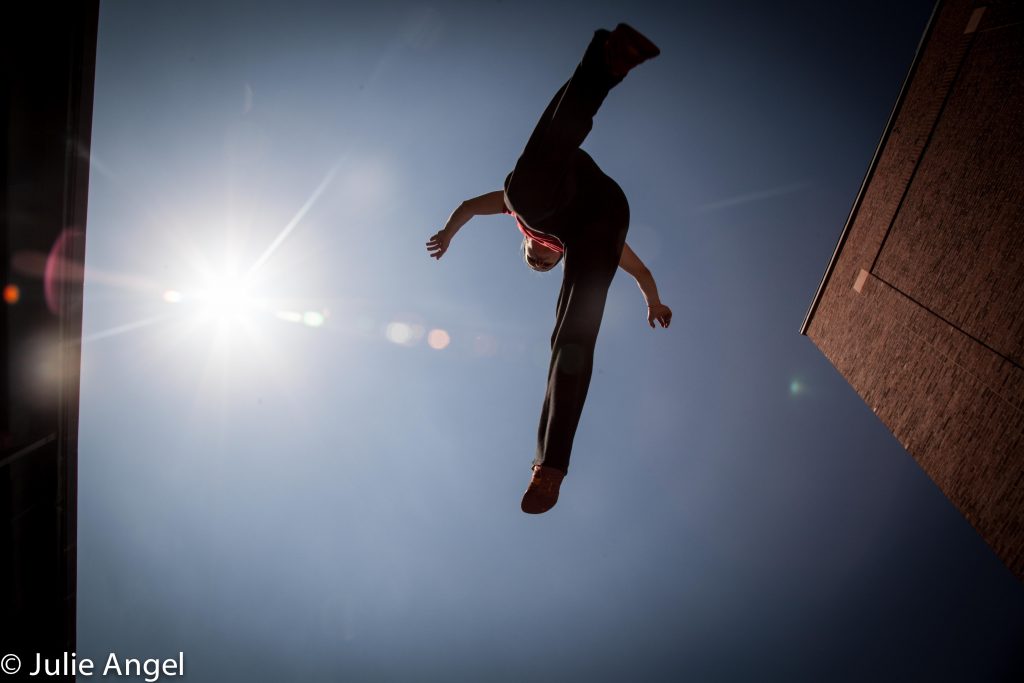 photo credit Julie Angel
Ms. Namita Nayyar:
You have selected a profession of being an independent filmmaker that requires a lot of hard labor, technical soundness and excellence in different faculties to finally succeed. How do you achieve that?
Ms. Julie Angel:
My learning curve has been a long and steady one; nothing happened overnight. I still feel like an infant in the independent filmmaking world as each project teaches me something new. Technology has changed a lot since I started but my focus has always been on communicating meaning and sharing stories. The fundamentals of filmmaking never really change. Sometimes there is just new equipment with different buttons to push.