PK Silver & PK Move
Here at See&Do when we hear about ground breaking projects we want to celebrate and promote them. No project exemplifies that as much as the work being done by those involved in PK Move and PK Silver in using parkour to work with special needs groups. We spoke to their founder Nancy Lorentz to find out more about these inspiring projects and how they came about.
Please can you tell us a little bit about the how, when and where you first discovered Parkour.
I discovered parkour in 2006, watching the Bond film, "Casino Royale." The opening sequence was eye-opening for me. I can't explain it, except to say I knew immediately that I was seeing something special. I did a little research and was fascinated, but I didn't quite know where to go with that interest. Fast forward to 2011. It was New Year's Eve and I decided to make "try parkour" my resolution. The next day, as if by fate, I saw a flyer for a parkour gym, Urban Evolution in Alexandria, VA. On January 7, 2012, I had my first parkour class.
Can you tell me about PK Move. What's the mission, who do you work with, where are you, who are the people involved?
PK Move is a non-profit which shares the transformative power of parkour. Our vision is to serve special needs groups who benefit from on-site, adapted training. PK Move athletes include senior citizens, cancer survivors, Title I schools, children with learning differences, etc. We are based in Alexandria, VA and are currently active in the DC Metro area.
What are the projects you are currently involved in?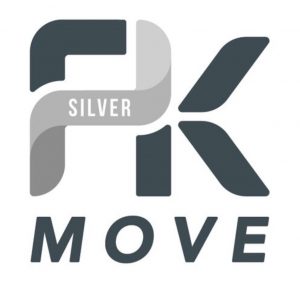 We have a variety of special classes and events happening throughout the year, but our two main projects are 1) the PK Move Pop-Up Playground which is a joint project with the City of Alexandria's Department of Recreation, Parks, and Cultural Activities (RPCA); and 2) "PK Silver," our adapted parkour class for adults 50+.
Can you give some background into the Pop up Playground and what's currently happening with that.
When we learned of Alexandria's Community Matching Grant, several factors contributed to our decision to apply. The Movement Creative was a huge inspiration, especially their Governors Island project. PK Move is not a brick-and-mortar gym; we use the obstacles in our participants' environment or whatever equipment they may already have. It was clear that a portable playground could provide much more flexibility as to how and where we train. We were thrilled at the prospect of offering a play space in low income neighborhoods where there is no playground. Furthermore, contrary to fixed playground, the pop-up can be set up anywhere – outdoors or inside – on a temporary or more permanent basis. Thanks to limitless configurations, the equipment can be easily changed to accommodate many different ability levels or varied interests. Finally, this project gave us a unique opportunity to promote parkour and alternative play for all ages and abilities to the public. Our $10,000 Grant proposal was to buy the portable parkour equipment set and offer a series of free-to-the-public parkour/movement sessions over the next three years. Thanks to the generous support of our participants, friends, family, and local businesses, we raised our half of the money and hope to begin the first lessons in August.
What challenges do you see the Pop up overcoming in terms of making Parkour accessible?
The word "accessible" doesn't just refer to creating attainable physical challenges on the obstacle course. In fact, that's the easy part! While the Pop-Up playground gives PK Move the ability to physically configure the equipment, the main accessibility issue we confront is public perception of both parkour and play. Many people have never heard the word "parkour." If someone has heard of it, there is usually a narrow and rather extreme understanding of what it is, i.e. American Ninja Warrior, Tough Mudder, ninja activity, etc. Or the person might fixate on negative press accounts of parkour which include injury, death, trespassing or property damage. Although household names for us, there is no recognition of "David Belle" or "George Hébert" for most people. The easiest and best way to explain parkour is to demonstrate the movement. The Pop-Up gives us the chance to mix with the public at markets, festivals, and neighborhood parks. Within our communities, we have all witnessed someone who – through the transformative power of parkour – has reawakened or discovered some aspect of their inner strength and beautiful freedom of movement. So why do we get comments and questions like: "It's sketchy to see a grown man playing and swinging around like a monkey. Why is he doing that?" Our current public perception dictates that play is only for young children and it provokes an especially strong reaction within those who see older adults playing parkour. PK Move wants to challenge the current commonly held beliefs regarding who can/should play, where they can play, and how they play. Changing these social assumptions will not happen overnight because they are self-actualized beliefs. PK Move's pop-up will convert any area into a place for public play. Our goal is to show how fun and empowering it is for folks of any age or any ability to practice parkour.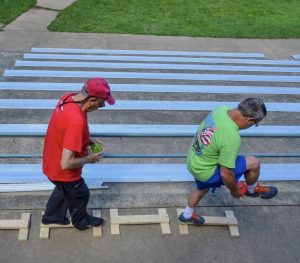 Can you tell me about your approach to play and how this fits in with the Parkour projects you are running?
One of our mottos is "You work out, we PLAY out!" Our first priority is always safety, but after that, it is fun. We incorporate obstacle course challenges and games into all our classes to highlight the joy of movement, exploring the environment, cherishing each person's unique movement signature, and making community connections. At the same time, stressing the playfulness of parkour helps reduce some of the fearfulness or awkwardness our participants may be feeling.
PK Silver…tell me everything!
PK Silver is our parkour class for adults age 50+. It is our flagship program. Are there people over 50 who are athletic enough to walk into a parkour gym and begin training in a "regular" class with teenagers? Yes! Even if they are not fit, we have seen older people being coached very well at parkour gyms, especially when the client can afford to have a private lesson or is lucky to find a group coach with education beyond a parkour certification. However, parents or grandparents are not generally found in parkour class.
Can you outline what it is and the goals and philosophy behind it.
The goal of PK Silver is to share parkour with people over 50 who have some barrier to training at a parkour gym. That barrier might be economic, physical, social, emotional, or something else. We offer small group, outdoor classes with coaches who are trained in both parkour and senior fitness to insure a safe, fun, and useful experience. Our main fitness goals are fall avoidance (catch falls, balance) and how to deal with a fall if it happens (core and leg strength). Basic parkour philosophy – "be strong to be useful" – also applies to PK Silver, Although we do have personal challenges in PK Silver, we strive to minimize competition. We stress team work, because it is there we discover the more important and enduring aspects of parkour, such as "we start together, we finish together."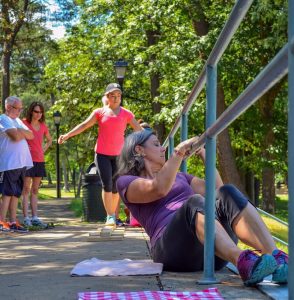 What was the inspiration for the project?
When I began training, I had a lot of issues with weight and arthritis, but I stuck with it. I gained muscle and stamina as I continued to train. By the time 2014 rolled around, I felt great. That made it even more of a shock when I was diagnosed with the ultimate obstacle, cancer. I must give credit and thanks to my entire medical team, but I am certain my outcome would have been drastically different if I had not begun parkour training when I did. Parkour training was a source of mental and physical strength for me during cancer treatment. As soon as surgery, radiation and physical therapy were in my rear view window, I returned to Urban Evolution and continued training with that community who were (and continue to be) amazingly supportive. At my one year mammogram, the radiologist expressed disbelief: No scar tissue? I knew why: rails! It just so happened to be the same week I had a deadline to sign up for another year teaching at the middle school. But I couldn't commit to another year. I knew I wanted to do something different, something involving parkour. I wanted to serve people who were like me: no gymnastics/sport background, unconditioned, over 50 and broken (either with a chronic disease or injury.) In a mystical confluence of events, a few days later, I met Jade Shaw at an APK Women's Jam in Washington, DC. I had been admiring Parkour Dance on Instagram for some time. After we chatted a bit, she asked if she could interview me for a documentary she was filming. We spoke about Forever Young/Parkour Dance, and the desire to "do something different involving parkour." Dance is Jade's not-so-secret ingredient to make parkour more accessible, but neither I nor any of our coaches had a background in dance. Also, we weren't as keen on the performance aspect. There were many discussions and we finally decided to move forward with a parkour class sans dance for older folks.
Who is involved?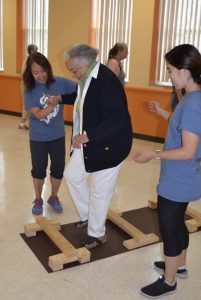 Jean Lam, Rosy Noguchi and I are the founding members of PK Move. I am the president. We incorporated and began to offer classes to friends and family for our beta. After a few months, we "opened" classes to the public and then received our 501(c)3 determination letter from the IRS. Sheryl Gorsuch and Sean Hannah, along with the three founders, are on our Board of Directors. Victor Crittenden and Kyle Putbrese are also important members of the PK Move team.
How long has it taken to bring to fruition?
That's a difficult question. While it predates PK Move, some folks on our team have decades of experience and education working in senior fitness. The value of all that time cannot be overstated. It has taken over three years to get to the point where we felt ready to share and scale PK Silver.
What have been the main challenges you've had to overcome in bringing it all together?
Our biggest challenge is contraindicated movement. There are movements which older people should NOT do, because the risk of incurring an injury from the movement itself is greater than any possible benefit. For instance, PK Silver has a "NO jumping" policy. We have had traceurs tell us that if our participants don't jump, they aren't training parkour. We disagree. Parkour gyms and coaches will have to challenge their own assumptions about what parkour is if they want to offer PK Silver. What does "be strong to be useful" mean to a 75-year old woman? When you chant: "we start together, we finish together", who do you think should be included in the "we" ? Another big challenge has been reaching potential PK Silver participants. They don't have IG or Facebook accounts and they won't visit the website. We have had to market this class the old-fashioned way: going to where senior citizens hangout, passing out flyers, calling, and shaking hands.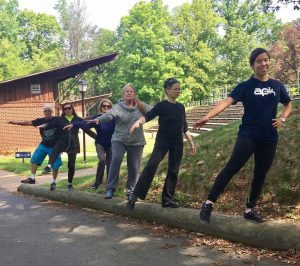 What feedback have you had so far?
We have been having great success with our classes and get regular reports from our participants about how much stronger their ankles are, how they catch themselves and prevented a fall, how they can lift heavy things (such as grandchildren) without hurting their backs, etc. From senior program directors, we get astonishment and skepticism until they see PK Silver in action. Then we receive these comments: "I've never seen anything like this." "They loved it! Normally our residents don't engage with the fitness coaches." "When can you come back?" What are your future plans and how can others learn from you? Please feel free to talk about everything you are doing and promote the project and all future goals. I love it! We hope to be among the presenters at this year's Art of Retreat where we will talk about our program. We are putting the final touches on our PK Silver Coach Manual and will soon be offering a workshop to share what we've put together with others. We have a promotional video coming out shortly. I know quite a few people in the States who have been following the work done by Jade Shaw in the UK with the Forever Young program. It's great to see more awareness and attention being given to different populations. I know several trainers who would love to set up a parkour programme like this in North America but don't feel they are qualified to do so. what advice would you give them or do you have something in line for the future where people could learn your methods, a certification or training programme? We agree that most parkour coaches do not have the expertise to coach older folks, but they could get it in the form of specialized fitness certifications, training, and/or university coursework. PK Move is excited to share what our team has learned with everyone in our community. We have done the work, by synthesizing what we know about parkour and senior fitness with notes about contraindications. Ultimately, it is our hope that other gyms will collaborate and support our projects. If we have the opportunity to scale PK Silver, we will be offering a lot of workshops because we will need qualified help!
How can people stay up to date with your projects and how can they contact you?
www.pkmove.org
nancylorentz@pkmove.org
@pkmove (instagram)
www.facebook.com/PKMove.org/
703-216-0051
Final comments, ideas and thoughts you'd like to share?
We would urge anyone who is interested in purchasing a portable playground to contact the Movement Creative as they are the experts. Many thanks for allowing us to share about Pop-Up and PK Silver. We have several other exciting projects in the works including
PK Survivor
(parkour for cancer survivors and their families) and
PK School
(parkour for students with special needs or in Title I schools, etc.)