Parkour at age 52 by Maggie Namkoong Spaloss
Why do I practice parkour at age 52?
by Maggie Namkoong Spaloss
I do it because I love the community and it's this community that has shaped my life into what it is today. To me, the practice of parkour and involvement in the community are inseparable. If you practice parkour, you get drawn into a community of like minded individuals where the camaraderie, support and love keep you constantly motivated to move, learn, practice and play.
It's such an exciting time to be involved in parkour. The practice is becoming deeper and good quality instruction is becoming more available to the greater public of all ages. I'm 52 and can't perform a lot of high impact moves. But I still find plenty of skills I can perform with low impact that give me that same thrill that that younger traceurs get from doing flips, tricks and giant precisions. Especially because of the inclusion of rails.
I love rails. When I was a kid, I spent every recess and lunch period on the playground bars with like minded kids. We were constantly teaching ourselves new tricks that we didn't know already existed in the world of gymnastics. We thought we had invented them!
As an adult, swinging on the rails with my hands or knees gives me that same thrill I felt as a kid but without killing my joints from impact. And participating in parkour jams with other practitioners give me that same feeling I had as a kid, when we'd challenge each other to perform and invent new movements on the playground.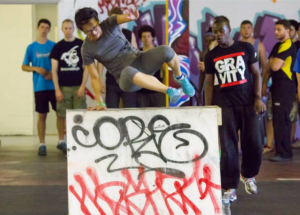 Though parkour is inherently about being outside, I'm so grateful that the indoor parkour gyms exist. They allow for year-round practice and the inclusion of crash pads, mats and foam pits make it more approachable for people in my age bracket.
Before I tried parkour, I took my kids to parkour classes and I sat in the waiting area with my iPad often eating fast food. I even donated sofas to the gym so I could be more comfortable in my den of sloth.
Then one day, I got a promotional e-mail from the gym about a free low impact parkour class for moms on Mother's Day. As is customary with the parkour community, the e-mail contained plenty of humor and good natured snark which is one of the reasons I loved it. It included a subtle remark about parkour kids moving their whole bodies through obstacles while minivan driving moms sat in the lounge moving their little fingers across iPads. Well it worked because I was mortified when I read that. I actually thought he was talking about me!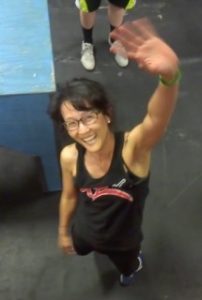 So embarrassment led me to my first parkour class and the rest is history. I continued to train and eventually became an assistant parkour instructor. I also became private trainer certified and am currently studying corrective exercise.
I still drive a minivan and I still own an iPad. But I no longer have to sit on the sidelines. I can move my body across the obstacles instead of my little finger across the iPad and I'm infinitely happier because of it. My motto is: Train safe, have fun, and don't be afraid to look like a spaz.
Maggie Namkoong Spaloss is a certified personal trainer and runs an active family of 5. She and her husband practice parkour, rock climbing and acro balance. Her two daughters practice aerial silks and rock climbing and her son practices parkour, rock climbing and jujitsu. Most of her parkour training came from Urban Evolution in Manassas, VA and she currently resides in Cary, NC where she practices at Enso Movement.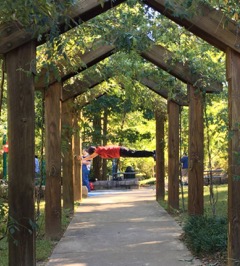 Maggie can be found on Instagram @railflow_is_not_lame.